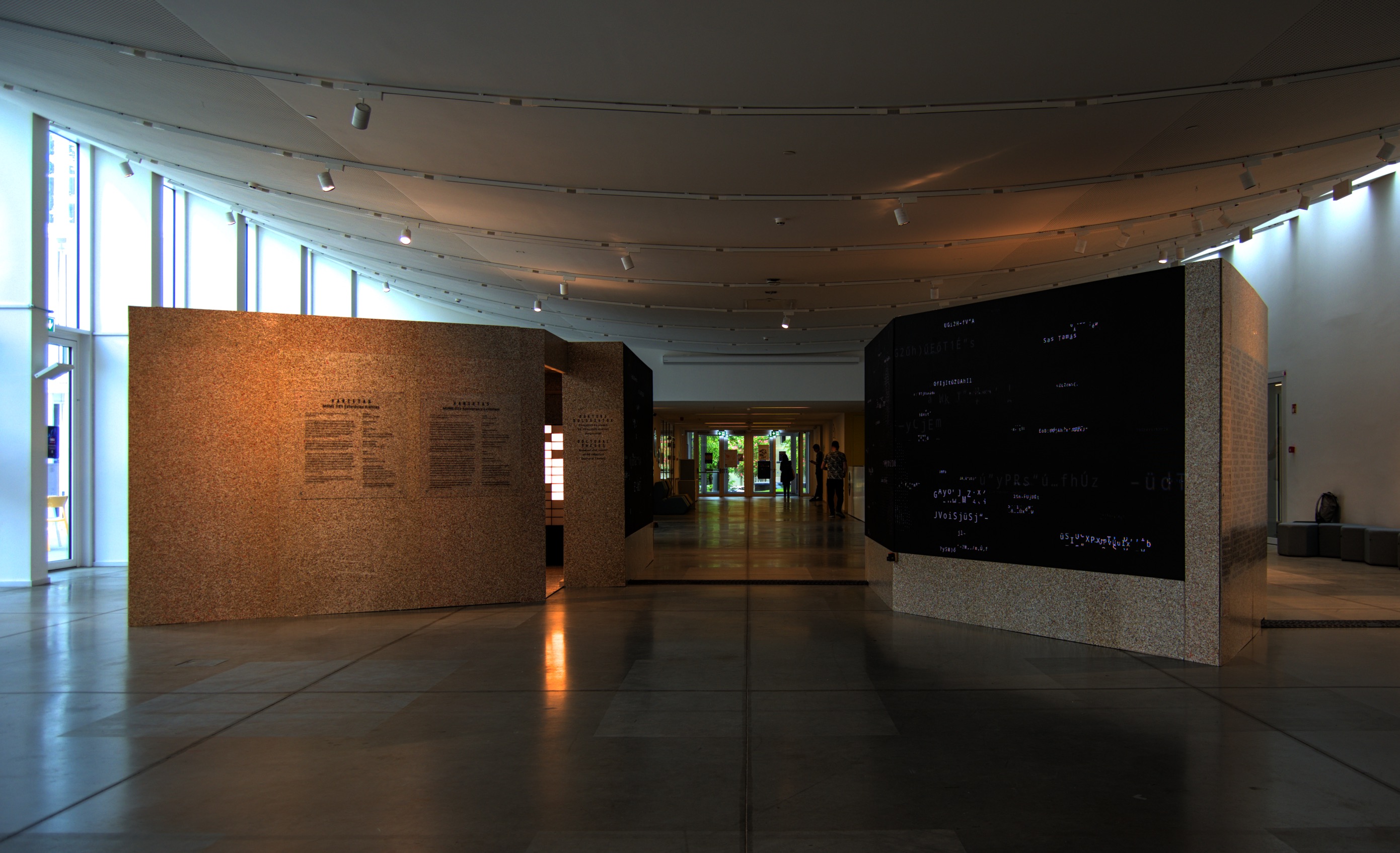 We had the opportunity to design a complex spatial installation: "Varietas", which celebrates the quarter-century anniversary of the Doctoral School and now occupies the MOME Ground space. The exhibition highlights the school's doctoral students, its most significant assets. Our design, in collaboration with curator Dániel Kovács, offers an insightful exploration of the history of the Doctoral School while also delivering fleeting, thought-provoking impulses to passing students.
Within the installation space, visitors can explore the insights of 25 former students, 25 masterpieces, and 96 doctoral theses, housed in two pavilions made from recycled materials in the university's main entrance hall, the MOME Ground. While aligning with the main axis, they also create new spatial qualities and routes for the audience to move inside, through, or around them.
A key feature of the installation is an interactive and immersive display along the main transit route. On its LED surface, new text excerpts, names, and expressions appear as visitors move. Derived from the doctoral theses, longer quotes are revealed if we stand in front of the LED wall, and as we pass by, the otherwise coded texts morph into readable words.
One of the pavilions houses a special bookshelf containing the physical, original copies of the 96 theses. This 12x8 shelf, connected with LEDs, functions as a LED matrix display. Equipped with a push-open mechanism, it allows for easy browsing of the books. An associated tablet can be used to filter and search the theses, adding a data visualization layer to the display.
The student interviews are presented as a video installation. Former doctoral students share their experiences and impressions from their time at the school. The interviews are composed in a dynamic grid layout as slow-motion, overlaid duotone live-portraits. With the dialogue separated from the video, listeners can immerse themselves in these stories in an elevated, almost meditative state.
In conclusion, the Varietas installation encapsulates the essence of MOME Doctoral School's 25-year journey by focusing on the thoughts, works, and experiences of its past and present doctoral students. Each element of this multifaceted concept resonates with the diverse disciplines that form the core of the university, from architecture and furniture design to typography, graphic design, interaction design, video, media design, or design theory. The exhibition is a testament to the creative diversity that define the MOME community.